Are you aware of the fact that Instagram is at the top of the list of growing active monthly users? Yes! Its' users grow at a faster rate than Facebook, Twitter, and Snapchat. In this article, we'll help you understand how to run Instagram Ads for lead generation with proven tips.
While other businesses have been tremendously affected by this pandemic, there are some corporations that have prospered more than ever. Especially during the lockdown, Instagram has gotten so much importance, it's almost like it could cure Corona. But actually, millennials and boomers on Instagram were trying to keep a positive outlook by sharing and enjoying jokes and memes on the Corona Virus. Hiding the suffering with the cover of memes, how millennial is that?
Instagram has been amazingly utilized for advertising during this time and not just for sharing memes. Turning 10 years old in 2020, Instagram surely got a great gift i.e., 1 billion active users!
Can you imagine the opportunities a platform with 1 billion active users has to offer? It's insane. Instagram has more than 30 million business profiles. It has become an essential platform for marketing and lead generation
(Image Source: Optin Monster)
Instagram's own statistics showed that at least 200 million Instagrammers visit at least one business profile each day. Also, 60% of people have said that they discover new products on Instagram.
Who is Instagram for?
Even though Instagram is for all, it is exceptionally useful for certain types of industries. However, a platform with 1 billion monthly users has to be of at least of some use for every business. And especially, if your main product is visually pleasing, then you should definitely consider Instagram for marketing.
So, consider these 2 things before diving into full-fledged Instagram marketing-
Industry Check
Visual Outlook
As mentioned earlier, some industries are made for Instagram marketing, such as tourism, food, fashion, beauty, auto, etc. And above 80% brands catering to any of these industries and taking full advantage of advertising on Instagram.
The beauty industry has become so recognized after its' popularity and virality on Instagram. This has given small businesses, beauty artists, a chance to explore their potential and grow with the constantly growing platform.
Related to the beauty industry is the visual outlook factor. So if you have a product or your business caters to anything that is visually appealing then you must dive into the amazing world of Instagram marketing.
Virality on Instagram
If you are looking to get popularity or if you wish to promote your grandma's recipes or if you are looking to tell the whole world what is your dog up to these days well, Instagram is the place for you. In today's world, we often search for fame, but we forget that it is just a few right clicks away. We are living in a world where everything and anything can be trending. On a planet of 7 billion, one will always find 50 thousand people liking the same things as he does. But people fail to hit the targeted audience and lose their chance of becoming that viral content Instagram.
The sole purpose of creating a site such as Instagram was to make money from these viral contents, but the question here is how to find viral content on Instagram?. Well, Instagram works on the algorithm which feeds on the things you have searched on your laptop or your phone, and once they know that they keep on popping advertisements of those products or links to the company's which sells those products or the people who are using that product. Now, this whole process might seem simple at first, but it becomes very complicated once you want to search viral content on Instagram.
How to create viral content?
1. High engagement from the audience: It is statistically proven that the posts which get the
the highest number of viewers are those who engage the audience's attention for a longer span. Now, this might seem obvious at first, but when you start creating content, content writers often fail to make the video or meme engaging for a long duration. 2. Create differently: Now, earning money via Instagram isn't people start thinking about,
when we want to find cute dog videos we have around ten thousand accounts filled with silly dog videos, now the thing to note here is that not all of those accounts have a successful followers rate. Still, the ones who have are those who post their dog videos differently, maybe their dog is in some costume, maybe their dog is training, or perhaps their dog is fighting with their neighbor's cat. And that what makes their accounts worth following.
The next step: Once you have your super engaging different content, you need to be careful about the timings; you need to caution about the date, the hour at which you are posting because if you are posting your Christmas special recipe in June, no one will watch it. But once you manage these small details too, then no one can stop you from becoming the viral content on Instagram. The Instagram algorithm keeps on changing as time changes. But Instagram will never change; it will always rank the most searched items at the topic, and the hashtags will still work their way to the top, but you need to see the content you want to show and the audience you wish to target.
So, what are you waiting for? Get into your thinking cap and break the internet!
How to use it for Lead Generation?
Lead generation on Instagram takes more than just a post here and a few hashtags there. Like every other aspect of marketing, Instagram marketing requires planning.
Lead generation through Instagram and other social media platforms goes a lot smoother when it's incorporated in your marketing strategies. You should chalk out plans ahead of time for your Instagram campaigns, content, stories, and even hashtags to get the most out of your Instagram marketing efforts.
There are more than just one way of lead generation from Instagram, let's take a look at all the ways first, and then we will discuss in detail about lead generation using Instagram ads.
1. Use Instagram Lead Generation Ads
This way of generating leads via Instagram is our hero today. Instagram ads have been widely used by many business accounts on the platform. An Instagram ad is a tool of promoting a business by use of creative designs, a post, or a story.
Instagram ads can let you know who is interested in your business by using a Call-To-Action (CTA) button in your ad. With millions of people spending time scrolling through Instagram, you have the potential to reach a massive audience directly and generate leads.
We will discuss in detail the steps involved in creating a lead generation ad on Instagram. All of the Instagram ads are created in Facebook ads manager.
#1: Choose ad objective "Lead Generation"
The first step to create an Instagram ad for lead generation is to create a new ad campaign. And select "lead generation" as the ad objective.
#2: Define your audience
Now you target your audience. This is a very important step as it will decide who sees your ad ultimately. It is suggested that a business should have an idea of the kind of audience they have so that it is easier to target them and the ad gets the maximum ROI.
If you have existing data of leads or customers, you can use it as a source audience to create your lookalike audience.
#3: Set your placement
Next, you have to set your placement i.e show your ads to the right people. You will see two options automatic placements and manual placements. Although Facebook recommends automatic placements so that Facebook can utilize your daily set budget to show your ads across multiple placements and platforms depending on whether it would likely perform better. But if you have a specific placement in mind (like in Instagram ads) you can focus on options catering to your requirements.
Below you will find various placement options to view and select from such as Feeds, Stories, In-stream, Search Messages, In-article, Apps site, etc. Explore through all of them to find a mix and match suited to your product and service and can lead to an effective lead generation. On the right-hand side you will have a preview of the placement options.
#4: Set your Budget and Schedule
Set your daily budget and schedule and schedule when you want you ad to display. There are two options available either to run your ad continuously or set a start and end date. Make sure in 'optimisation of ad delivery', 'leads' is selected.
#5: Choose ad format
You have two options i.e Carousel ad format in which two or more images and videos are displayed which can be scrolled, and Single Image or Video ad format. It's a creative decision of marketer which ad would display your product and service more. Although carousel ads have been in trend for quite some, 'less is more' might work for your ad requirements.
#6: Create Ad
Now that you chose your ad format, start creating your ad text, add images video, etc. Write a headline and description for each ad placement option. On the right, you can see a preview of your ad. As lead generation for is the main goal of your campaign focus on offers you will provide to your prospective customers in exchange for their contact information. For example – SIGN UP TO GET 50% OFF ON YOUR NEXT VISIT.
#7: Create Lead Generation Form
The next step is to make a lead generation form that works for Instagram. Keep in mind that your questions should be short, crisp, easy to answer. Avoid using open-ended questions like that might irk your potential customers and they might not complete the form. Use pre-populated forms so that users can submit their information with ease. Make sure your lead ads do most of the work of filling contact forms so that there is a high completion rate of the lead forms. There are various lead generation forms formats available on the internet to refer to.
Learn how to simplify lead generation in a cross-device world in this 15-minute Blueprint course from Facebook.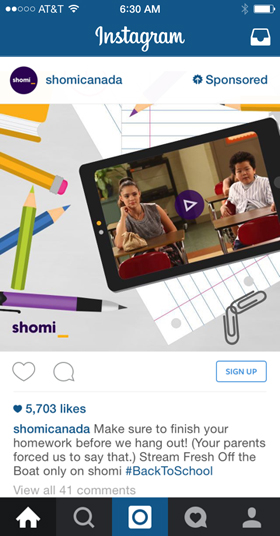 When people finish signing up, make sure to add a "Thank you" page. Put your website link along that if you want to drive user traffic to your website.
Tips for effective lead generation through Instagram
Now that you are aware about how to use Instagram for lead generation, let's look at some highly effective tactics to for optimal lead generation and various CTA's(Call to Action) options for quality lead generation.
#1: Link in Bio
When creating your business profile on Instagram, keep in mind the following formatting tips to create a business-ready profile bio:
Upload a good profile picture
Create a well-written bio which provides information about your brand, what you do, vision, and why people should engage with your brand
Add your website link in the bio and add a CTA(Call to action) above the bio link.
Keep website link short and include your brand name in your website.
Bio-Link should redirect to your website, and a lead capturing form should be included with that.
You can make most of your link in bio and it can generate a good amount of high-quality leads and with a well-crafted bio, customers are likely to spend some time exploring your Instagram account.
#2: Use CTA in your feed posts to drive traffic
Using "Sign up" CTA might not be compatible with all sorts of products and services, therefore Instagram gives you different options to explore from and you can also choose from additional action buttons tied to third-party tools like Resy, Eventbrite, or Grubhub. For example – Learn More, Watch More, Shop Now, Book Now, Contact us, Install now, Sign Up, etc. Depending on what you are advertising you can choose your CTA. You can get creative with different CTA provided by Instagram for effective lead generation.
A strong call to action can be combined with the right content can be very productive in lead generation. Your content should entice them to click on "learn more" or "Shop now". This is where a marketer's creativity kicks in, use your captions, stickers, graphic wisely to direct your audience towards your product/service.
If you want to drive traffic to your website create an effective landing page (see how?) with its URL shared on Instagram. You can then check your website analytics to see how user behavior after they were driven to your website through Instagram. Instagram is a visual platform and therefore eye-catching images and slogan are more important than text captions.
#4: Instagram stories
Instagram stories is the most popular method of generating leads and has high efficacy rate because of strong call to action which is much easier for a follower to comply with.
Sharing Instagram Stories
Using Swipe up in stories
Swipe up feature is used by Instagram influencers, brands, e-commerce websites and is quite popular amongst users because it's easy to use and it redirects to your website without leaving the application. You can save these swipe up stories in your highlights so that even after 24 hours these stories can drive traffic to your website. When a follower visit's your website you can him/her to register or sign up hence generating leads.
A major limitation of the Instagram swipe up feature is that it's available to users with more than 10k followers. But there are other options available even if you are not eligible
What if you don't qualify for Swipe Up feature ?
Even if you don't qualify for swipe up you can always opt for a conventional link in bio CTA to direct followers to visit your profile and click on your link and then redirecting them to your website. If you make your content visually appealing and interesting. This might turn out to be equally effective.
Another way around this shortcoming of the swipe up feature is by using the IGTV option. You can link your IGTV video similar to linking it to an external website. On swiping up, you can drive people from your Instagram story to your IGTV channel and video, and ultimately to your lead page. This is a relatively new featire introduced by Instagram.
One of the best features of IGTV is that you can add a clickable link to the video description. That opens up a lot of creative possibilities for lead generation. Firstly, you can add your website link and persuade people to check your video description for the website link which will redirect them to your website. Secondly, you can tag another Instagram account in your video description to redirect traffic to that account.
One important thing to keep in mind is to mention during the video that viewers can get additional information by clicking on the link in the video description.
#5: Using Embedded links in post
With the advent of new social media platforms, marketers like to think out of the box strategy for not just brand promotion but also lead generation. Link embedding is one of the popular strategies for e-commerce websites for marketing and lead generation through Instagram. Although it does not help directly in lead generation but can help you build more customers. Link embedding can be used not just in Instagram ads but regular posts also. You must be approved for Instagram Shopping and completed setup before being able to tag products in your posts. Before you can avail of this feature you must be reviewed and approved for Instagram shopping.
Check if you are in a market that is listed by Instagram. Click here
To create Instagram post embedded with website links, follow these steps.
Set Up Your Instagram Account as a Business Account
Set a Shopify Account
Connect Your Shopify Account to Your Facebook Page Product Catalog
Add Products to Your Facebook Catalog
Upload Your Instagram Image
Tag Products
Even if a tap does not result in a buy, you can consider it a lead collected on an interested customer. From there on you can target ads to customers who have engaged. Instagram has more than 130 million accounts tap on product tags every month.
#6: Instagram promotional contests
Promotional Contests can be creatively used to create brand awareness and generate leads. Promotional contests have a clear CTA i.e to register for its contest and therefore generating a lot of leads. A contest should be easy to register, it should not be overcomplicated and ask for too many unnecessary details as followers might get turned off. For example – ask them to complete a simple survey or comment on the post to win exciting prizes and offers. Lesser the confusion, more lead generation through Instagram.
#7: Instagram Influencers
Instagram influencer have a very high following of loyal audiences and fans and have power to sway them to your brand/product. Brands, especially fashion brands often collaborate with influencers on Instagram to increase their brand credibility and trust. As a marketer you can feature your popular products being used by their favourite influencers thus directing their fans towards your brand, which might turn out to be an effective lead generation strategy.
Conclusion
While the list of tactics is endless as Instagram is constantly evolving and is introducing new features to keep up with, these tips will give you an overall perspective about the importance of Instagram ads for lead generation. There is no doubt that Instagram is a vogue social media platform, even more than Facebook or Twitter. In past years, Instagram has seen higher conversion rates than any other social media platform. Despite not being a platform that gives you higher flexibility to attach links to your post, we cannot undermine the importance of Instagram ads.
With platforms that are more youth-oriented like Instagram, there is an untapped terrain of social media marketing. Marketers can get creative on how to use any of the above-mentioned tactics in an unconventional manner rather than focusing on just "sign up" CTA for lead generation through Instagram.
Do you have any other queries related to Instagram Ads? Let us know in the comments below.