Facebook retargeting is the advertising ability to target customers who have already engaged with your business. You might have been spending a lot of money on advertising campaigns. But suffering from a significantly low Return on Investment really takes it all down in seconds. Spending money on poorly performing advertising campaigns is not sustainable.
Facebook retargeting is the process to retarget the customers who have visited your web site by using their information. You can run advertising campaigns to retarget those customers and convince them to reach out to your web site again. If you are looking for retargeting on Google Ads then you can refer to this article.
Is Facebook retargeting efficient enough?
The stats clearly prove that Facebook retargeting works. Web site visitors who you retarget with displayed advertisements are more likely to convert by 70%. The click-through rate of a retargeted advertisement is ten times higher than the Click-through rate of a typical display advertisement. 44% of customers say that they would likely become repeated buyers after a personalized shopping experience.
However, the customers are ultimately Humans. Humans are complex indecisive creatures, especially during the internet age. Their brain constantly jumps from one thing to another as choosing after comparison gives a more defined result. A customer might not proceed to complete the transaction for the following reasons:
They received an e-mail more important than proceeding with your offer.
Their mobile just drained off all its battery.
They were just researching what to buy later.
They wanted to check for the present day's offers on the products which did not impress them.
This list goes on with many normal but strange reasons. The good thing however is that you can overcome these problems with a little tweak. This could be a nudge to remind them or giving them an extra offer in a retargeting advertisement.
Let us say someone did not buy your product due to any possible reason. You do not have to lose those customers forever. Simply retarget them with better offering advertisements. This way they will remember how much they loved your product and wanted to buy. In the majority of cases, they will return to finish the purchase.
Does retargeting bother the customers?
This is a smart question. You never want to run retargeting advertisements on Facebook that make your audience worry about their privacy. They should not get a thought that you are following them across the web. However, most customers want someone to track them online and understand that this information is utilized in the market.
Most customers enjoy seeing retargeting advertisements and wish to have a more personalized shopping experience. You will notice that Facebook retargeting allows you to promote your products. Besides this, it is also a great way to remind the customers who have visited your web sites. The conversion decision however lies completely on them.
How to start a Facebook retargeting campaign?
If you want to take the advantage of Facebook retargeting campaigns, you are at the right place, to begin with:
Pixel-based targeting
Let us say that you choose to use pixel-based retargeting. You will be needing a snippet that has to be placed on every single page of your web site. This creates a retargeting pixel, which will add a cookie to the browser of anyone who visits the web page. This cookie will follow their browsing and sharing the information with any advertising network. This network might have contracts to provide advertisements on other web pages the customer visits in the future.
Let's say the customer goes to a web site that works with the same advertising network as you. It will give your advertisement a priority over others. This makes sure to have the effect of providing the customer with a constant reminder to visit your web site.
Customers visit your web site for a variety of reasons at various stages of your sales funnel. In most cases, they are not even in your sales funnel. They might just be using your web site for researching something. Retargeted advertisements are very useful in the following circumstances.
It helps in encouraging customers, who might be in your sales funnel but would not be ready to purchase something. The retargeting advertisements help to keep you at the top of the customer's mind without causing irritation for them.
Installing Facebook Pixel on your website
The first step for retargeting advertisements is to make sure that you install Facebook Pixel. This is a code for your site that helps you in measuring, optimizing, and building audiences for your advertisement campaigns. Without having Pixel you will not be able to track visitors on your web site. Their behavior on your web site is the most important thing to know for retargeting them through your Facebook advertisements.
To set up Pixel follow these steps:
Go to your Ads Manager.
Search for Pixels by using the navigation bar or the search bar.
Select Add a new data source.
Lastly, select Pixel.
Facebook will now guide you through the process to set up a Pixel. Let us say that you have completed setting up the Pixel. Now you will need to decide how you are going to install this Pixel on your web site. Facebook presently integrates with third-party sources that could help you in the further process.
However, Facebook has its own strengths that could help you in installing Pixel on your web site. All you need to do is, simply copy and paste the Pixel between the <head> tags on your web site. You can also use several WordPress plugins if you are finding difficulties with editing your web site. You can take the tracking one step forward by using Facebook Pixel to record specific actions of the customers like:
Viewing Content
Adding a product to the Cart
Initiating the checkout
Making a successful purchase
You only need to add a few lines of code on specific web pages. Once you have set up the Pixel on the web site, you are ready for Facebook retargeting. You can see the statistics like the customers you have waiting for an advertisement, directly from the Pixel Analytics dashboard.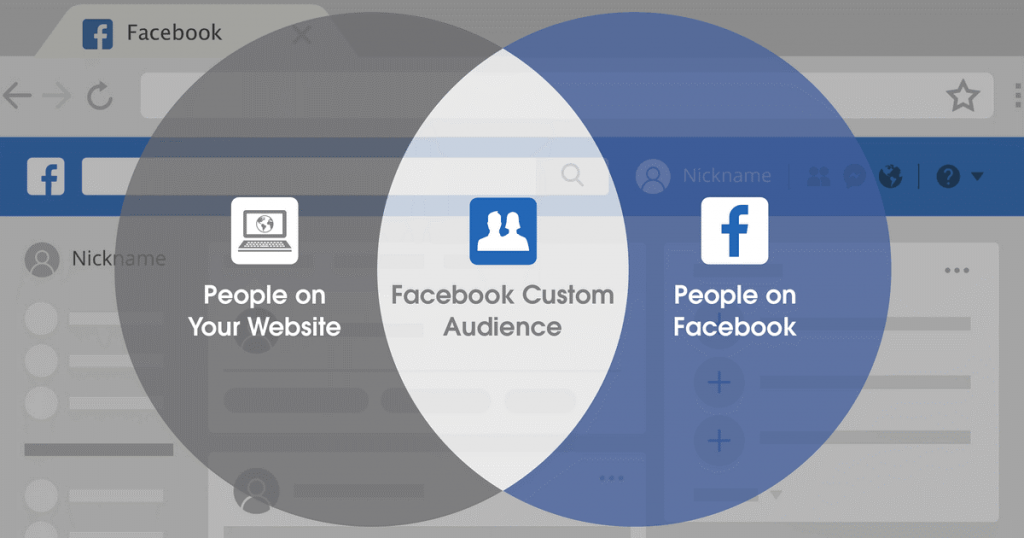 Creating Custom audiences for Facebook retargeting
Facebook Pixel creates a list of customers who have visited your web site and took some specific actions. You will be needing to create a specific Custom Audience for grouping those actions together. This will help in retargeting people based on their behavior. To go for this you need to go to Facebook's Ads manager:
Sign in to your Facebook Ads manager.
Search for Audience in your Search Bar
Select Create Audience and then Custom Audience.
There are a variety of behaviors for which you can create Custom Audiences. These include:
Website Traffic
You can target any customer who has visited your web site by using the Website Traffic data from the Pixel. You can retarget customers with advertisements. These might be the customers did not move to another page like checkout after visiting the first page.
It is really worth noting the most popular audience from your web site traffic. You can control your time frame within which the customers visit your web site to qualify for retargeting. The best practice however depends upon the goal.
If you are retargeting simply the customers who viewed your posts or web site content, days might suit this well. However, you should serve the cart abandonment advertisements within 12 to 15 days. If the customer still does not purchase anything after this period you are probably irritating them and wasting your budget.
Choosing a retargeting option
Someone has viewed or added an item in their cart and not completed the purchase. In this case, you must promote the products in your catalog to these customers.
Upsell your products from your catalog to the customers who viewed products from your showcase.
Cross-sell the products from your catalog to the customers who viewed the items.
Promote products from your catalog to the custom audience based on how the customers interact with your products.
Customer File
Customer File is another great option to retarget the customers. This uses the data you have already collected from the existing customers such as the name, e-mail, and other information. You just need to simply upload a CSV file with the data and Facebook will automatically do the work. It will map those details to the Facebook profiles for retargeting them with your advertisements.
Application activity
The application activity tracking works similarly to that of a Facebook Pixel for your web site. However, this focuses more on your application. This is a bit more technical and you will probably be wanting to work with your developer to implement this. You can easily track the information like Application launches. recent purchases, adding to the cart, and event tracking.
By implementing Facebook's special code into your application, you will be able to target the customers by this data. For example, you can run engagement campaigns for the customers who have not logged into your application for a month. You can notify them about the new offers and features about your application and much more. You can also track the customers who have added an item in their cart for so long and did nothing.
Offline Activity
You can choose to retarget the customers who are engaging with your business offline by setting up an offline conversation. This is similar to the Customer's Files but the only difference is that this requires more manual work. Someone from your company might need to periodically upload the data about your audience's behavior while in the in-store.
Let us say that you have successfully set up the filters. Now all you need to do is name the group and press Create Audience. This action will redirect you to a web page with all your custom audiences.
Do not panic if you have just installed your Pixel and Your Pixel is Inactive message dreadfully hits you. Facebook requires at least 20 users to fit your criteria before running advertisements for a custom audience. You can continue by setting up your advertisement. As soon as it starts tracking more customers on your web site this will fix itself.
However, if it does not fix itself, your web site traffic number might be too small. You need a significant number of audience for qualifying this type of advertisement. You should work on increasing the volume of the customers on your web site before using this type of retargeting.
Defining who wants to see your advertisements
Under the Audience section, choose to include the visitors from a specific period of time. Make sure to exclude the last 7days' visitors and recent purchases. Let us say that you have set up the campaign and it is running. Make sure that you regularly send updates to your email subscribers or Facebook followers.
You must let them know about your store's latest news, products, and special offers. You will observe that sometimes customers need new product design, mild discount, or the last push to become a customer.
Determining your Campaign objective for Facebook retargeting
Now this will be the actual creation of your retargeting campaign. This begins with determining the objectives for your advertisement campaign. This is the only reason you are running these advertisements.
To begin with, creating objectives for the Facebook retargeting campaign follow the instructions. Click the Create an Ad button and select your objective. Do not skip this and assume that it is a formality. Facebook uses this data in their campaigns. They will start showing advertisements to the customers based on the people in your audience with similar behavior. If the campaign's objective views on videos then it will pick the audiences who have a history of watching videos.
The most common goals for Facebook retargeting campaigns are as follows:
Traffic: You always want the retargeting audiences to head back to your website and remember your quality service. This goal will encourage the most number of customers to revisit your store.
Conversions: If you want to keep nudging your customers towards a purchase, then this is the perfect goal for you. This objective focuses on getting the customers to get the desired action which is generally a purchase. Please keep this in mind that you will need to set up event tracking within your pixel from this.
Select your Goal which you want the customers to achieve. Move forward with naming your campaign and then hit Continue.
Selecting the Custom Audience for Facebook retargeting
You will now need to select the custom audiences that you created earlier. This can be anything from the customers who have visited your web site or who have downloaded your mobile application. If you have selected the Conversions goal then you need to select the Pixel you have created to track them. If you fail to do so then you will not be able to know if your campaign was a success. Facebook will not keep a track of if the customers you are driving to your web site are converting.
Type the name of your audiences in the Custom Audiences field under the Audience section of your campaign set up. The right-hand side of the web page will show the audience size of your retargeting group. The data will be available along with the estimated daily results. If this is not as large as you were expecting you might need to revert back to your Custom Audience. You will need to change the timeframe of the criteria.
Excluding Audiences
When you are targeting the custom audiences on Facebook, you might have specific people that fall into two types. You might be paying twice for a single user who is already your customer. Or, you might be paying a lot for a user who is now fed up of viewing your advertisements. You can simply exclude the Custom audiences at this stage who might be overlapping with the group you are retargeting.
Picking advertisement placements for Facebook retargeting
After successful completion of designing and targeting your advertisements now you need to determine where the advertisement will be shown. This can range from an in-stream video to an Instagram Story advertisement. Facebook understands very well, where each type of advertisement is most likely to result in meeting the campaign goals.
You can also choose to pick advertisement placements based on specific devices, platforms, or locations if a need arises. But in the majority of cases, Facebook knows it better than what you think of. So, it is better to leave everything on them to decide where to put the advertisements for better conversion.
Setting a periodic Budget for Facebook retargeting
However, Facebook advertisements are not free but fortunately are pretty close to being free. You will be needing to select your budget for this retargeting campaign. You must remember that this is not your overall advertising budget. This is simply what you want to spend on the specific retargeting campaign. You can choose from a lifetime or a daily budget for the Facebook retargeting campaign. Just keep in mind to do this along with the figure that caps your spending for each Goal. You will find this under the Cost control field.
The exact figure that you enter here will vary significantly from Business to Business. However, it is important to make sure that you can always start small and then raise your budget gradually. You must not shower all your money into the campaign before knowing that the campaign will actually work.
You can run your retargeting advertisements in continuous loops. Each day you will come around people who find your web site and abandon the cart without making a purchase. When you use Pixel you need to worry about updating the existing retargeting audience manually. They will simply filter their way into the retargeting campaign.
Creating visuals for your advertisements in Facebook retargeting
Let us move on to the fun part from where everything is exactly the same as creating great Facebook advertisements. Start with selecting the advertisement format you want to use. Then upload your visuals and spend some time crafting a compelling advertisement copy. The aim of any advertisement should be to grab the audience's attention. With a busy newsfeed to compete with, it is also worth adding some bold images and action inducing triggers.
Keep in mind to include the URL you want the customers to visit, using the Urchin Tracking Module (UTM) parameters. This will help you to gain more insight on where the customers are visiting. Hit confirm and you are then waiting for the review of your Facebook advertisement. After review, your retargeting advertisements will start appearing in front of the customers on your Custom Audience list.
Reminding the customers of finishing the purchase
With the growing age of Mobile browsing, the number of users who buy online is turning lower. Customers on computers are more likely to purchase than the ones on mobile phones. Mobile phones are our daily-use devices and the majority of advertisements we see are on mobile. So, it becomes less likely to purchase something while on mobile. Let us learn about how we can proceed to do it:
Reaching the customers where they are most likely to purchase
If you observe that customers are visiting your web site through their mobile phones, do not proceed with more advertisements. Instead, consider showing the retargeting advertisements on desktops only. Let us learn about how you can find out the devices your customers use.
Go to Google Analytics and look into Audience > Mobile > Overview. Observe the mobile conversion rate and how much of your total revenue comes from mobile visitors. If desktop users significantly perform better than mobile users, you must consider turning off your advertisements on mobile devices.
Catch the attention and remind the customers
You must consider U-turns several times to remind your customers of the products that were interesting to them. A study reveals that people are most likely to interact with familiar things than the ones completely new to them. Facebook dynamic advertisements are the advertisements which automatically shows the products, the customers have previously viewed. This characteristic makes these types of advertisements more efficient and relevant. Let us learn about how to proceed with dynamic advertisements.
Go to the Facebook Ads account and click on the menu (☰).
Find Product Catalog under Assets and then click on Create a Catalog.
Click Add Products after successfully creating the catalog, and then download the CSV template.
Proceed with filling the template and then upload it on Facebook.
After the uploading of the template, you are all set for your first dynamic advertisement campaign.
Giving people a compelling reason to return
Most people abandon their carts because of changing their minds to seeing a better option around. For winning such customers you must give them something that makes them see their purchase as a great deal. Many e-commerce shops offer limited-time discount codes for the customers.
Stats show that the majority of the customers are more likely to return to the product which had an offer. You might also highlight some other offers than discounts like free shipping and free samples. People love grabbing things that are free to use.
Providing Customer Service in Facebook retargeting
Sometimes it becomes important to provide customer service to the customers who hesitate while making a purchase. A majority of buyers need support while buying something because either they are new to the product or have confusion. Facebook messenger advertisements are very common in use nowadays. These take the customers directly to Facebook messenger rather than to an e-mail or phone support. Most people are comfortable in chatting rather than calling or writing a formal mail.
Facebook messenger advertisements are your chance to initiate a live one to one conversation with the customer. This will increase the level of trust and comfort for the customer often resulting in a successful sale.
How to target the customers who hesitate?
Facebook only allows you to operate within predefined targeting options. There are options to target the customers who visited your web site within a period of time. But there is no option to target the repeated visitors who might have been to your web site several times. For finding these types of visitors who hesitated to purchase, you need to look at other signs that signal hesitation. You can choose to specifically target the visitors who spend most of their time browsing your web site. Or, the ones who have visited specific pages on your web sites like FAQs, Terms and Conditions, or pricing pages.
Preparing the audience
You need to create an audience of last week's visitors who have visited specific support web pages. Go to the menu (☰) > Create Audience > Custom Audience > Website Traffic and do the following. Set people who visited specific web pages and set your period. Then type in the page names and you are all set to go.
Staying in touch with visitors while Facebook retargeting
Some marketers say that the customers who have not purchased anything after a week will not buy at all. But we must not give up. Please keep in mind that they do not buy does not mean they are not interested. Some customers might not be ready to convert yet but it does not infer that they are not interested anymore.
You must understand that you should not focus on immediate purchase but on long term relationships with customers. The best way to do this is by offering them the opportunity to subscribe to your mail list. You can do this by Facebook Lead ads. As your visitors have already shown their interest in your brand they might love receiving newsletters from you.
Besides, these advertisements have specific optimization for leads. This means that Facebook will find people with a higher interest in your products and show them your advertisement. By turning the visitors into the email subscribe list, you can stay in touch with potential customers. This will build relationships and in later times you can convert them in the future.
The most important part where your advertisement will stand out is it's efficiency. Your advertisement should clearly:
Tell customers the worth of staying in touch
With almost all promotions and spam sent, the customers have become cautious with whom they trust in their information. You have so little time to tell the people about the worth of being in touch with you. It is about a 2-second average attention span of people scrolling through their Facebook feed. So, it becomes very important that you are clear and convincing in your message.
Make it easier to get into your list
Do keep in mind that people are not a big fan of long forms. Especially if they have to subscribe to the email list you do not want to become an irritation for them. Facebook lead generation form is an ultimate minimalistic one. It just has two fields, namely the Name and e-mail. You also have options that allow adding more fields to the form such as country, date of birth, etc.
Although getting to know more about your potential customers might sound interesting. Keep in mind that the more field you add to fill in can decrease the conversion rate by 50%.
Conclusion
Everyone knows some annoying brand that just keeps showing the same retargeting advertisements in loops. Not only this is annoying but also extremely ineffective and expensive. You must not be wanting to be such a brand.
By showing the same Facebook retargeting advertisements for long periods you bore and even irritate the customers. This can result in people starting to actively hide or block your advertisements. On the other hand, sending some advertisements which have the same goal but a different approach might seem interesting. This will avoid irritation and also impede overpaying efforts for the Facebook retargeting campaigns.
Structured Facebook retargeting advertisement campaigns make sure that you are giving your customers what they need the most. If they receive the thing they need the most in a time when they need it the most. You are surely meeting your business goals in an ultimate smart way.