Google Ads retargeting is a type of online advertising strategy which targets specific customers. Usually, these customers have already visited your web site or any existing contact on some of your database files. In some cases, it might be possible that they may have been visited one of your competitor's web site. Basically, Retargeting can be classified into two types:
You can use Pixel-based retargeting whenever you choose to redeploy material to the customers who have visited your web site. You can choose List-based retargeting whenever you have a list of contact details for specific customers.
Pixel-based retargeting
To use the pixel-based retargeting, you must place a snippet of JavaScript code on every page of your web site. This creates a retargeting pixel, which will add a cookie to the browser of anyone who visits the web page. This cookie will follow their browsing and sharing the information with any advertising network. This network might have contracts to provide advertisements on other web pages the customer visits in the future.
Let's say the customer goes to a web site that works with the same advertising network as you. It will give your advertisement a priority over others. This makes sure to have the effect of providing the customer with a constant reminder to visit your web site.
List-based Retargeting
In the majority of the cases, you might have already collected the contact information from the customers. These were the customers who showed some interest in your product or service. It depends upon how you try to intend to create retargeting advertisements. You can often directly upload the existing contact database. There is still a problem you might encounter. When people use different email addresses for a different purpose.
Retargeting for Awareness
If you are planning to retarget for awareness, you are not expecting the customers to convert in any specific way. This is particularly relevant when you are using pixel-based retargeting focusing on the customers who have visited your web site. You do not know their intentions while they view your web site. You can not expect that they will be ready to buy your service at the end.
However, you must be wanting them to continue remembering your name anytime in the future. This makes sure that whenever they are planning to convert, they will automatically think of your service and returns. In this case, you must make sure to make your content emphasize your brand. Do not make an attempt to be a hard seller. This will more likely turn people away at the stage.
Retargeting for Conversions
If you are retargeting for conversions, you are focusing on the customers who have indicated their interest in your service. These customers often might have given you their details. This can be in return for some white paper, ebook on your web site, or for subscribing to a newsletter. You would also include the customers who your sales or marketing team might have approached or collected details.
There exists one other type of customer you would target. He would be someone who might have attempted to buy some products from your website but never completed the transaction. This clearly shows their intent at some point to buy a product. But for some reason, they were not able to complete the transaction for some reason.
In these types of cases, the advertisements are more direct and focused. These customers already know about you which means that there is no need to provide them with awareness content. If possible, provide them a copy to target them with the reason that they first came to your web site. If you plan to retarget for conversions, you must take an interest in your click-through rates. The cost per lead and cost per conversion will also be significantly high.
Why run Retargeting Ads?
The most significant place by far to retarget the advertisements is Google Ads. You have options to advertise on Google, YouTube, or Gmail. You can advertise on Google Ads across a variety of web sites and apps which have a wider reach. Alternatively, you can choose to retarget your advertisements on social media platforms.
Facebook Audience Network is the best platform to date. It allows you to advertise your selection of Facebook, Instagram, Messenger, and WhatsApp with ease. LinkedIn and Twitter also allow you to create retargeting ads on their platforms. You can consider the below mentioned conversion-focused retargeting advertisements:
Firstly, for visitors to your product page an advertisement highlighting the product features and the customer testimonials.
Secondly, for the customers who abandoned their shopping cart an offer for free shipping or an additional limited-time discount.
Lastly, for the past purchases an advertisement featuring related products, you are offering a sale on.
Ways to run Retargeting ads
You can run your retargeting advertisements in two ways:
Self Serve, where you use the relevant networks' self-service tools to manage your advertising campaigns directly.
Third-Party Platforms, which you can use as a special tool for retargeting. This way you will only need to set up a single tool to use with multiple advertising networks.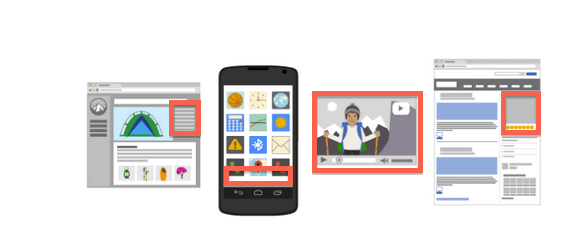 Google Ads retargeting using Google Display Network
The first step to start with Google Ads retargeting is to set up an account on Google Ads. Google Adwords was the former name of Google Ads. Once you are ready to initiate your Google Ads retargeting campaign, begin with launching your Google Ads account. If you were a previous user of Google Adwords, you will soon notice the few changes in the layout. Google uses the terms retargeting and remarketing interchangeably so never confuse yourself.
Previously Google Adwords provided a tag that you had to install on your website using JavaScript. However, now they give a Global site tag and an optional event snippet. Some ways to help with Google Ads retargeting:
Standard retargeting shows the advertisements to your past visitors as they start browsing websites and apps on Google Display Network.
Dynamic retargeting boost your results with advertisements that include products or services that people viewed on your platforms.
Retargeting lists for search advertisements show the advertisements to your past visitors as they do follow up searches. They often carry out these searches on search engines right after leaving your website.
Video retargeting shows the ads to the customers who have interacted with your videos or your YouTube channel. This was possible as they used YouTube and browsed Display Network videos, web sites, and apps.
Customer list retargeting allows you to upload contact lists information that the customers might have given you with customer matches. When they sign in to Google, you can show them the advertisements across different Google products.
Creating a Website Retargeting list
To be able to operate a Google Ads retargeting campaign your first step will matter the most. You will need to create at least one web site retargeting list. You can do the same by following the step below:
Firstly sign in to your Google Ads account.
Open your shared library, from the Tools menu.
Select Audience List from the Audience manager.
Click the plus button and select Website visitors to add a web site visitor's list.
Start by entering a descriptive retargeting list name on the page that opens. Please make sure that you must have a tag or event snippet set up for this to work.
From the List Members drop-down menu, choose a template.
From the Visited Pages drop-down menu, select a set of rules. Add the conditions for web pages on your web site where you would like to collect the visitor's cookies.
Now enter the initial list size which will be the number of visitors during a period set.
Enter a membership duration, which will define how long you want the visitor to stay on the list.
Enter an optional description of the audience you are expecting.
Lastly, click on Create Audience.
Creating Your Display Retargeting Campaign
Begin with creating and signing in to your Google Ads account.
From the page menu, select Campaigns.
To create a new campaign, click the plus button.
From the Goals section, choose your desired result for the campaign. This will depend on whether you plan to retarget for awareness or for conversions. Now select your goals that match the objectives you decided upon while making a plan.
Select Display Network from the Campaign Type section. If you are planning to use retargeting for search advertisements, choose Search Network as your campaign type. Depending upon the campaign type you choose, sometimes you might have to choose a subtype as well.
Now you are free to set various parameters for the advertising campaign, such as:

Campaign Name
Location setting
Language setting
Bid strategy
Budget
Content exclusions

For more options, select Additional settings. These options may be scheduling an advertisement or targeting a device.
In the People section, look for Audiences.
Select remarketing and click the checkbox next to Audiences that you would like to add. This will add them to your retargeting.
Feel free to add any other campaign adjustments if you need to.
You can choose either to create your advertisement here on the screen or to create it later.
Lastly, select the Create Campaign.
Other Retargeting types
Social media is another common way to retarget people, as the majority of them have been set up for retargeting. Let's say you are planning to run your advertisement campaigns on the Facebook network. You must have no difficulty in setting up retargeting.
Campaign types
Google Ads retargeting campaign focused on the mobile app users
Begin with creating a new Google Ads retargeting list from the Audience manager, to start retargeting the mobile app users. While creating an app user list, you have certain options to choose for retargeting. A smart way to run this advertisement campaign is to retarget the app users who have not been active recently. You can customize this field by setting up the cut-off point. For example, let us say creating a retargeting audience of customers who have not used your application in recent days.
Google Ads retargeting campaign focused on the YouTube channel
The first step here is to select the YouTube Users from the Audience lists drop-down. Link your YouTube channel and you are ready to get going. Please do not forget to allow Google Ads access. You will also be needing to link from the YouTube side as well. For this simply go to Other settings under Setting in the YouTube studio and open the Advanced settings.
Head down to the Adwords account linking and then follow the quick walkthrough to finish it up. After doing this you will have a wide range of available options for the customers you can retarget from YouTube. The retargeting options of YouTube are some of the best ones lying around. These rival platforms like Facebook and Twitter when it comes to specific usage. Similar to the web site visitor retargeting, you can segment the audience with these options.
For example, let us talk about choosing the Viewed certain videos option. You can select videos on specific topics or products and create a new retargeting list with advertisements related to those. This defines that you can get an extra specific touch in your offer as it related to the customer's behavior. For example:
Creating a retargeting list based on the customers who have watched a specific video.
Creating retargeting advertisements featuring a product and offering a limited period discount on it.
Google Ads Retargeting with Dynamic Advertisements
Normal retargeting allows you to show advertisements to the customers who visited your web site or interacted with your application. But the Dynamic lists is a step further from this. Among other possibilities, they let you show advertisements to the customers who viewed a specific product on your web site. This means that you can knead specific messages and offers to your audience based on their personal interests. This will help to decrease the wasting of the advertisement budget. You would not have to make assumptions about what people might want based on the funnel stages.
Dynamic retargeting lists allow your business in generating leads, boosting sales, and converting those customers who abandon their shopping carts. Google Ads does the most work for you above all of this. It uses an algorithm to determine, which advertisement placements and styles are the best for each objective based audience type. Unfortunately, setting up dynamic retargeting requires a lot of work to do.
Firstly, you will need to create a service feed with details on every single product you want to retarget. This includes a unique ID, image, price, and much more.
Secondly, you will be needing to tag each page of your web site with the custom parameters tag. This adds the ID of your product to their profile.
Lastly, you will be needing to create some responsive advertisements which change based on the product. You do not want to create as many unique advertisements as you have the products.
Google Ads Retargeting with Customer Match
In case you are familiar with the Facebook lookalike Audience targeting, you will love Google's customer match targeting. It is similar to Facebook lookalike targeting but has some dominating factors over it. Unfortunately, Google has some requirements to fulfill before you will be able to use Customer matching, namely:
Good History of Policy Compliance
Good Payment History
A minimum of 90 days of history in Google Ads
Above $50,000 total lifetime spend. It is different for the advertisers who manage their accounts in currencies other than USD. Google allows converting their spending amount to USD using the average monthly conversion rate for that specific currency.
The customer matching does not only enables you to produce a new list of customers similar to your present customers. It also enables you to create a specific retargeting to that existing list. This means that you can easily reach leads that gave you information by nudging them with the advertisements. You can upload a list of present customer information using template and formatting guidelines. Google Ads will use this information to generate a matched audience.
Tips and Tricks
The subscription-based companies face a major problem. They willingly lower the prices to drive in more traffic through their campaigns. Every single monthly charge is only a fraction of their costs. This means that it could take months for them to proportionate on each customer.
Unfortunately, even the customers who sign up for your service do not stick along with it for long. If an application can not keep the people sticking around, it will slip into negative cash flow. This results in them paying out more than what they bring in on a per user basis.
Why Remarketing adds to boost the app retention?
Most apps lack behind right after their publishing process. You need to think about the last time you signed up for a free trial. If you built an interest in some new application type, you probably might have signed up for different apps. This helped you be confident in choosing the best after comparing all those applications. The bitter truth is that every single day this number continues to fall off a peak.
However, the e-commerce companies periodically see a 2% conversion rate which means most customers simply leave without purchasing an item. They either need to drastically increase their average order value or just keep people busy so that they continue buying. But the majority of advertisements do not attract the users as they offer nothing or are just completely irrelevant.
Let us say a customer visits your web site and leaves without making a purchase. You can choose to retarget them continuously. You can even offer some discounts so that they might visit and make a purchase. It is that simple. You just have to set up remarketing once and then you just have to tweak the results. You will surely need a good budget. But retargeting 100 customers who already know is far better than targeting 10,000 new ones.
How does Google Ad Retargeting work?
The retargeting advertisements look so simple above all other data. It tracks every single customer who comes to your web site or downloads your application. The tracking pixel allows you to serve them the advertisements. The best part of today's pixels is that they give you all control over what data you send them. This means you can serve new advertisements based on actions or inactions within your application.
In the majority of the time, retargeting advertisements will be display-based. This means they are banner advertisements that are visible across Google's Display Network. Begin with creating different audiences to start setting up retargeting campaigns. The audience will leave or join depending on the criteria you set up, which defines that these lists are dynamic.
You can use different dynamic audience lists from the Audience manager under the shared library in your Adwords account. After you set this up you will probably be wanting to have a bunch of different audience lists. Think about your sales funnel for the best approach. Advertising campaigns must target each stage. This way, customers at the very top see a different offer than the customers in the middle and below.
We have already seen that free trials or sign-ups do not count much. This means that the applications need to actually go even further. You will need to want to create more customers who have started a free trial but not converted. The customers who have installed the application but have not visited for a few days will count here as well.
Setting up the audience lists
The List members control how you control the upcoming audience criteria. The settings define whether to add someone or not. The most profitable retargeting campaigns come down to good segmentation, which is directly proportional to the conversion rate. You must not choose All users of an app for your first retargeting list. This will be too generic. You would not be able to create personalized and relevant advertisements for each customer on the list.
Let us begin with choosing Took specific actions within an app. This will define whether a customer sends their first email or not, or had he uploaded an image or not? There are several micro-conversions that lead the customers from one tiny commitment to the next one. If someone commits all these steps within a limited period of time, then your chances to retain them shoots up. This brings us to the second option, which is creating a retargeting list based on user recency on your site.
This is almost like an autoresponder, where if customers visit more often then you can send them upselling notifications. Please keep in mind that if the people do not visit you can send them re-engagement campaigns. These can be about interesting features to get them back to your application.
Setting up Retargeting audiences
You can also set up the retargeting audiences inside Google Analytics if you are wanting to use web site behavior. Simply head over to the Admin panel to look for the Audience Definitions. Here you will be able to create new audiences from the web site interactions like the pages visited. You can also create new segments of the customers who visit your Pricing page but do not convert. You can choose to create all these audiences around the most common objectives.
This way you can test different advertisement creatives to overcome the pricing questions vs the feature ones. There are more features that can put your advertisements on a whole new level.
RLSA audiences
Google search network advertisements are among the best converting channels and nothing else comes close. The biggest reason is that you can target the advertisements based on the intent. RLSA audiences by Google can help you with retargeting search network advertisements. This way you can cut off the recent interactions they might have had with your brand. This is so powerful as the customers routinely buy from the brands they recognize. RSLA has two main features:
Customers will recognize your brand name vs the competitive advertisements they see.
You can also match someone's intent based on the words they use to search.
IF functions
RLSA audiences are like a diamond for the customers who have signed up, installed, and then ignored doing anything else. It became even better when Google released IF functions for Adwords. These functions allow you to take the personalization a step forward.
You can choose to create an advertisement template that will switch the words based on someone's condition. For example, let us say they use mobile instead of the desktop. You can then change the advertisement text to 'Download now' instead of 'Get our mobile app'.
This provides an extra layer of detail that most of the other advertisers can not match. You can also customize these further based on your previous interactions. You can personalize an advertisement text based on the customer's interaction. For example, if they have previously downloaded your application or if they are a loyal customer. The best one of all is that it is like dynamic text replacement.
You do not need to create several different advertisement variations. Just a few variations and then you can use IF functions to do all the customization automatically for you. These are also very easy to use once you have learned the language. You can now create search advertisements that can cycle through offers based on where a customer is in your funnel.
An option is to use sequential retargeting for starting with the basic offers for the top of the funnel customers. You can then get more direct the more they get down into your funnel. Let us say you got someone to download or sign up for your application. Maybe they interact with five times over the course of a few days. You will know you have them on your hook.
Mobile and YouTube retargeting
Retargeting advertisements have one great weakness. Let us say are wanting to segment each audience as much as possible. You are going to require a lot of customers in your initial sample. All customers who have downloaded your application, or went through the few milestones but have not been back for long. This number is going to be pretty small. This means you can continuously need to fill the top of your funnel. CPCs might not matter in the grand scheme but they certainly do when you overspend on the clicks recklessly.
Here the videos come into the play. Video views offer the cheapest ways to quickly build up the audiences. Go to the Audience manager and look for the YouTube options to unlock an abundance of new targeting criteria. You can add customers to these lists based on almost any interaction they perform on YouTube. Beyond YouTube, you can also hook into SDK analytics too.
Customer Match Retargeting
This is the best one of all. So far we have been focusing on just getting the customers into your application and sticking around for limited periods. However, this is not enough. It is another scenario if a huge chunk of customers come along in the first month. To break even the customers have to stay for months consistently. Otherwise, all the money spent so far will turn into waste.
In the 'customer match retargeting' you already have some history of the customers. They have given you all their contact information. Maybe even purchased from you in the past. The only point to consider is that now you have all the information that you can use to retarget them.
Conclusion
Unfortunately, the majority of customers who sign up for a new app will not stick around for long. This is true for mobile as well as desktop applications. Most retention numbers across most of the studies are uninviting. Some might be significantly high while others go desirably low. It means that your job switches at a certain point. Getting customers to look at your application might not be a problem. The issue that is undercutting your profits is your conversion rate. There is a lot of work upfront to set up everything. The only thing is that you have to invest a lot of time and energy in planning out your audiences.
Lining up your advertisement creatives becomes easy because you know exactly what every single audience wants. Once you start with them you just need to focus on monitoring the performance. The advertisement campaigns run themselves and you do not need to worry about adding or removing customers from the audience.
In this article, we have tried to cover everything related to Google Ads retargeting. If you want to keep yourself informed with more such topics, keep on reading our blogs! We are going to be posting more about Google Ads retargeting, Google remarketing, Facebook Ads retargeting & remarketing, and more!